Moving with the times
Jigsaw now uses an online developmental progress record. This system is called 2simple. It allows us to track each child's individual progress and highlights any areas to develop. We are able to ensure all children achieve in all areas of development and encourage them to exceed in their milestones. All our observations are sent to parents regularly via email for their perusal.
The Times
We at Jigsaw were contacted by the Times newspaper. They wanted to write a piece about our Nursery as they had heard about our NDNA award and were interested to know why we gained the title "Best Day Nursery in the UK". We at Jigsaw lead the way in our provision thinking outside the box giving children opportunities they wouldn't necessarily have at home, allowing them to take calculated risks and encourage critical thinking.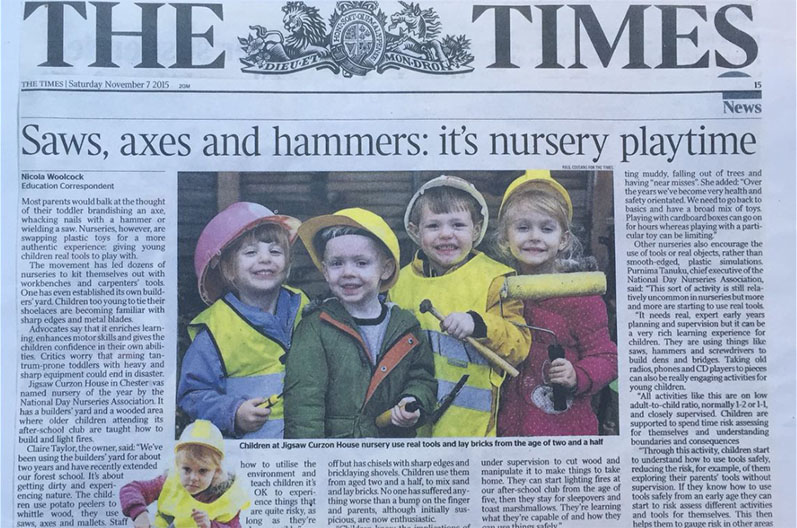 Channel 5 News
Channel 5 news contacted us after reading the wonderful piece written in the Times. They asked if they could come and film us doing what we do amazingly well. They wanted to know what sets us apart from all other nurseries and how we safely encourage children to use real tools during creative play at nursery.
The Times on Saturday Channel 5 News tonight.. We have fabulous and talented children in our nursery..

Posted by Jigsaw Curzon House Day Nursery on Tuesday, November 10, 2015
Nursery Team
Please take a look at our short video showing what a fantastic team we have at nursery. At jigsaw we have an outstanding retention of staff. We have been open since 1999 and most of our senior staff have been with us since 2000-2005. Having a good team is paramount for a good working relationships and promotes continuity for the children where they feel safe and confident to explore, learn and grow.
Fun Day
Each and Every year come rain or shine our Summer Open days are outstanding fun with fancy dress, bouncy castle, raffles, games galore and a chance to sample our menus whilst meeting all the staff and parents. We always raise a massive amount for our charity in Malawi.