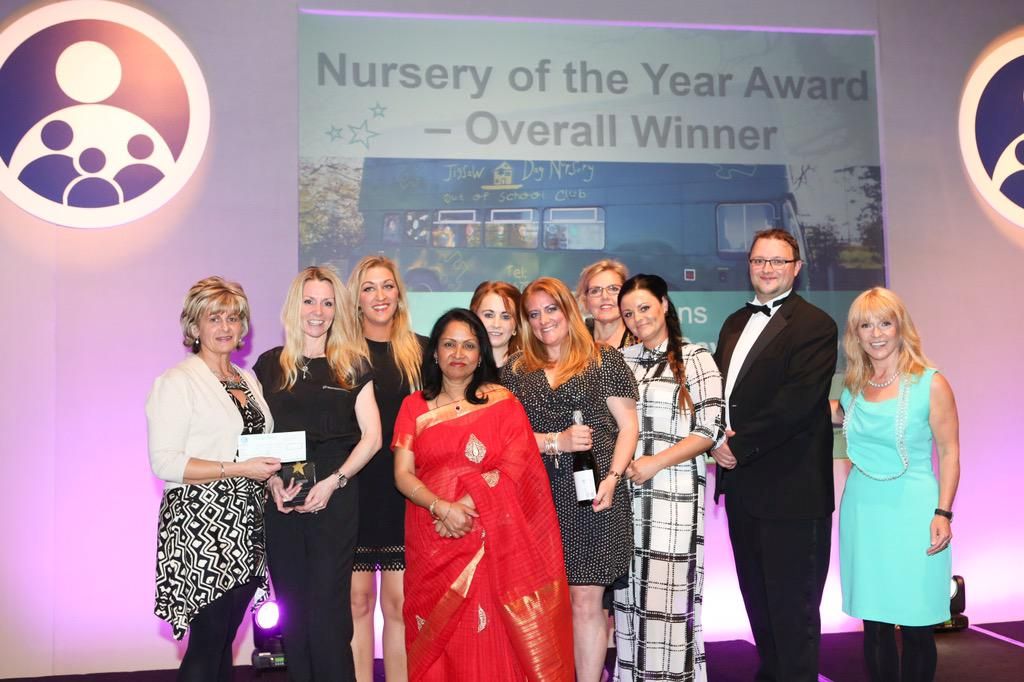 Jigsaw celebrating after being voted National Day Nurseries Association's UK Nursery of the Year 2015

Scores of parents wrote glowing testimonies to help Jigsaw Curzon House claim victory.

The judges, supported by Netmums, were impressed by the whole package – from the care it takes to be inclusive for children with intensive needs, to how well the children are looked after by fully engaged staff.

NDNA Chief Executive, Purnima Tanuku OBE, said: "This is a brilliant achievement. The team at Jigsaw Curzon House is a great example of the amazing, inspirational work happening in our sector every day."
YMCA Training Achievement Award - Employer of the year 2009.

Claire Doyle (nursery manager) proudly accepted this award on 26th November 2009 at the Palace of Westminster and was accompanied by Charlotte Thomas (deputy manager).

Since 2001 Jigsaw Day Nursery has been helping 74 YMCA training learners.

Claire said at the presentation: "We have a very high retention of staff and value each member of staff and their efforts. We ensure that all staff feel part of a fantastic team and reward them for furthering their education and gaining more qualifications."
Apprenticeships Regional Awards – Small Employer of the year 2010
Jigsaw Curzon House Day Nursery was awarded with a 'Regional Highly Commended Small Employer of the Year 2010'
Claire said "It was a great privilege to be given a National award for working in a profession which gives me so much enjoyment and satisfaction"
NMT Nursery Awards 2011 – Nursery Nurse Award 2011

Rebecca Mason was short listed down to 5 from 100's of applicants from all over the country for the nursery nurse of the year award. Rebecca came very close but was pipped at the post for the prestigious award. Well done Beckie!

NMT Nursery Awards 2015 – Individual nursery of the year 2015

NMT Nursery Awards 2015 – Nursery team of the year 2015


This year Jigsaw Day nursery were runners up in both of these categories and were invited to a glitzy-glamorous night in the London Hilton hotel hosted by Scott Mills. Unfortunately we didn't win but were delighted to be runners up and chosen from all the nurseries within the whole country.
---
© Jigsaw Curzon House Day Nursery Ltd and out of School Clubs 2012 - . Hosted by www.nurseryweb.co.uk